Office of the National Director, NESLI
Global Schools Leadership Alliance
111 SW 5th Avenue, Suite 3150
Portland, Oregon 97204
Email: info@nesli.education
Phone: 844 652 5944
Web: www.nesli.education
​
Office of the National Director, NESLI
Global Schools Leadership Alliance
111 SW 5th Avenue, Suite 3150
Portland, Oregon 97204
Email: info@nesli.education
Phone: 844 652 5944
Web: www.nesli.education
​
In partnership with
Women & Leadership Australia
THE WOMEN'S
MIDDLE LEADERSHIP
PROGRAM
PARTICIPANT EXPERIENCE
The Women's MLP employs an integrated learning methodology combining expert tuition, peer knowledge sharing, practical workplace application, and guided personal thought and reflection. During the program participants will undertake the following elements:
Leading from the Middle
Participants explore what it means to lead and begin to answer the question 'What type of leader do I want to be?' After examining a number of leadership frameworks, participants begin to build connections with their own style and leadership approach. There is a focus on building self-awareness and an understanding of their approach to leadership. In addition, strategies for building resilience, mindfulness and wellbeing are also explored along with ways to overcome challenges and increase resourcefulness.
Communication, Negotiation and Influence
As participants explore their own communication style and its impact on others they begin to build greater awareness of and appreciation for how they can utilise various communication styles to more effectively connect with others. The module also focuses on ways to effectively influence and negotiate across different levels, including interpersonal, team, and organisational.
Fostering Exceptional Teamwork
Participants consider the elements that define high-performing teams and the impact and responsibilities they have on team performance. In addition, the module focuses on the importance of trust in effective leadership and across teams. Participants develop strategies for increasing team collaboration, and ways to motivate and inspire other staff.
LEADING Learning Environments
Participants focus on leading inspiring, inclusive environments, through an understanding of the school in its broader context and its impact on leadership. System and school influences, such as AITSL standards, will also be explored in this module. Additionally, participants work through and apply the five dimensions of effective leadership to their own context as a school leader.
At the beginning of the program, participants undertake a capability assessment to evaluate their ability and confidence in key areas. Results from this simple assessment support each participant to develop a personal action plan to help them achieve their developmental objectives.
Throughout the program, self-directed learning content is accessible via our state of the art online learning management system (LMS) allowing participants to engage with it at any time from any device. Content includes high quality video tutorials, 'best practice' leadership literature, experiential activities and reflective tasks. Throughout the program, participants are also free to connect with each other 24/7 via the LMS and discuss 'top of mind' issues.
Throughout the program participants engage in six live online sessions, focused on rich discussion and debate, relevant to each topic area. Accessible from any mobile or desktop device, and conducted outside of regular classroom hours, these sessions create a regular connection point enabling collaborative exploration of key ideas and concepts.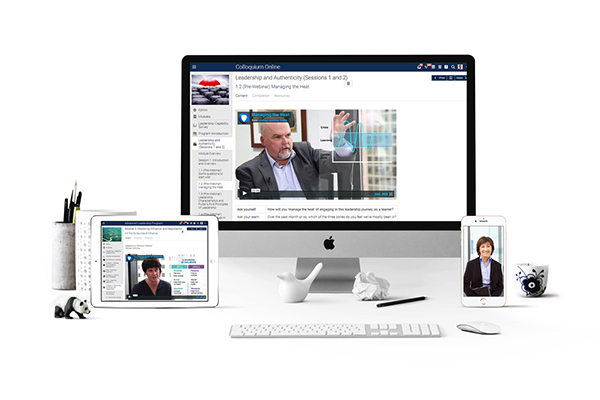 The Personal Leadership Project is an outcome-driven activity which focuses on opportunities to lead positive change within the school, as well as personal leadership growth.
During the program, participants enter into a coaching partnership with a senior leader at their school. The coaching process is fundamental to the program allowing participants to properly contextualise their learning and align key outcomes to the milestones in the Personal Leadership Project.
Capability Assessment
Leader as Coach Sessions
Interactive Content Sessions
Personal Leadership Project
Self-paced Learning Modules
The Women's MLP is a five month professional development program for female school leaders.
The program is designed to help aspirant and existing middle leaders to better understand and take ownership of their role as leaders. It focuses on building interpersonal skills and awareness to enable participants to increase relational trust and overcome everyday challenges that arise within the school.
The program combines rich, multi-media learning resources with peer level discussion and collaboration. Additionally, the program assists female leaders to create powerful, life-long professional networks.
The Women's MLP is designed for a wide range of positions including curriculum and subject leaders, heads of departments and year level leaders, lead and expert teachers and teachers in positions of added responsibility or exercising leadership in other capacities.
"As a woman in a middle leadership position in a school, the information and interactions affirmed for me that I wasn't alone in what I was experiencing, and that my thoughts and opinions were valid and realistic given the topics we explored. I found the peer coaching to be exceptionally rewarding, and the guidance and resources have enabled me to reflect on my practice deeply and practically. It really was a great experience for me and something I would highly recommend to others."
Ashlee Bruce, Head of Languages
Establishing key leadership behaviours and mindsets is critical at a middle leadership level, as individuals take an important step forward from managing self to managing others.
The Women's MLP aims to ensure participants build up a holistic framework for leadership that is harmonious with the needs of their school community.
The learning intentions for this program are:
Understanding one's own capabilities and
practices as an influencer and leader
Leading inspiring environments which are diverse and inclusive
Leading professional learning teams
Driving positive change through collaborative frameworks
Engaging in evidence-based work-integrated professional learning
Understanding how to lead and inspire exceptional teamwork
Understanding the importance of engaging others
in developing the most effective solutions
PARTICIPANT EXPERIENCE
The Women's MLP is an integrated development program that focuses on the critical dimensions of effective, collaborative leadership within the schooling context.
The program employs an integrated learning methodology combining expert tuition, peer knowledge sharing, practical workplace application, and guided personal thought and reflection. The program is delivered part-time over five months to ensure participants have time to fully integrate their learning into their everyday practice.
Online session 3:
Communication, Negotiation, Influence​
Online session 1:
Program orientation​
Online session 2:
Leading from the Middle​
Leader as Coach Session 1​
Leader as Coach Session 2
Online session 4:
Fostering Exceptional Teamwork​
Leader as Coach Session 3
Online session 5:
Leading Learning Environments
Leader as Coach Session 4
Online session 6:
Reconnect
Online session 3:
Negotiation, Influence​
Completing the Women's Middle Leadership Program will contribute 36 hours of NSW Education Standards Authority (NESA) Registered PD addressing 5.2.4, 6.3.4 & 7.1.4 from the Australian Professional Standards for Teachers towards maintaining Proficient, Highly Accomplished or Lead Teacher Accreditation in NSW.